De Warande is a small, family run business.
We're specialised in stinzenplants, shade-loving plants, bulbs for naturalising and a number of other flower bulbs. We've been experimenting with these plants in
our woodland garden
in Laag-Keppel, the Netherlands, since 1986. And we've also designed and planted a large number of gardens using these plants. All in all we've built up a lot of experience over the years… and we'd like to share this experience with you!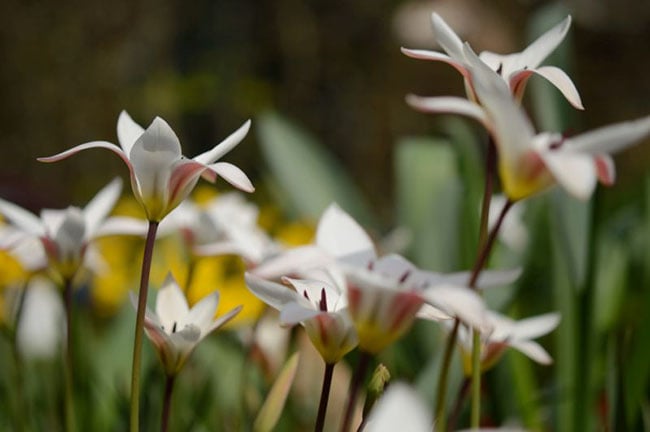 At De Warande we're continually experimenting with flower bulbs and we're often surprised by their beauty! Such as here, Tulipa clusiana 'Stellata', planted in 2013 on the river sand dune.
The De Warande team…
Trudi Woerdeman en Willem Overmars set up and created De Warande. Since 2011 Toto G. Lee en Jan willem Overmars (Trudi and Willem's son) have taken on the care and maintenance of the garden at De Warande, also continuing in the tradition of experimenting with new species and cultivars. Jan willem en Toto also run the webshop. The
garden designs
for clients are all made by Trudi Woerdeman and then turned into reality by Jan willem en Toto.
Eight reasons why to buy your bulbs from De Warande:
- In
our woodland show garden
, in the Netherlands, advice is readily available and you can get to know our bulbs first-hand. Welcome to our garden open days!
-
We offer
a tried and tested collection of plants: in our show garden we constantly experiment with bulbs. We first assess whether a sort is suitable for the home gardener before including it in our webshop.
-
Your order
will be well packaged and postage is insured. Therefore you can be sure that your order will arrive safely. In the unlikely event of a lost parcel we accept responsibility and will offer to send your order for a second time.
-
We use
the largest bulb size available (unless otherwise stated) of premium quality.
-
On top
of our competitive prices we offer 'quantity discounts'. This means that when you buy more of the same sort of bulb you receive an automatic discount.
-
The cost of delivery
is low and for orders amounting to more than €90.00 delivery is free (only to NL and D).
-
Not satisfied, money back!
You have 14 days after receiving your order to return the order to us (without having to state a reason). We'll then reimburse the order value.
-
Plant authenticity guaranty
(1 year): we do our very best to deliver the correct species and cultivar! However, if you do notice during flowering that we've delivered the wrong species or cultivar, then you will receive the correct plant free of charge.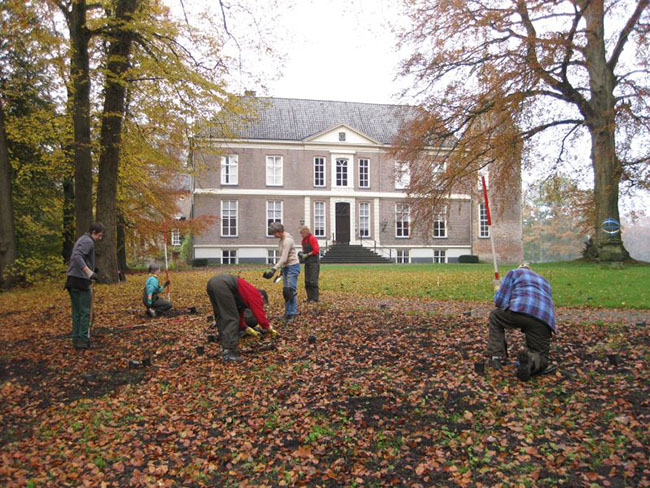 Flower bulbs such as stinzenplants and bulbs for naturalising are planted around the forecourt of Kasteel Hackfort, an estate in the Netherlands. Design: Trudi Woerdeman. Client: Natuurmonumenten
Everyone is welcome to buy plants and bulbs from us, large or small: from orders for the drives of country estates (where we can plant up to 50,000 flower bulbs – and yes, we do plant them all by hand to create a natural effect!), to an order via this webshop with a minimal value of €15,00. For us it's not about the quantity, but about the joy of bulbs; working with them and delighting in the end result in the spring!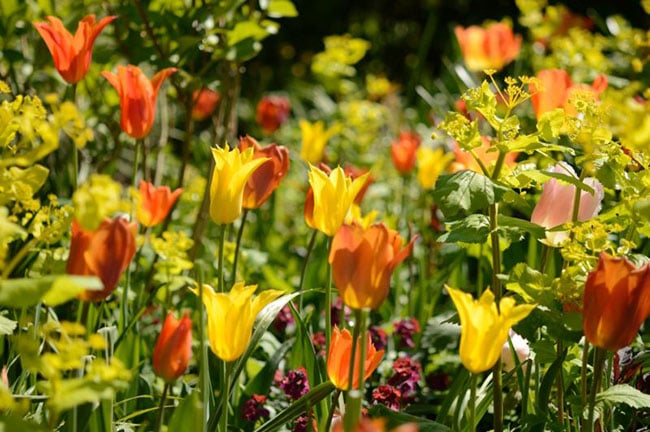 Different species of Tulips flower in the garden of Jaqcueline van der Kloet. We often go and visit other gardens and locations to keep on learning that little bit more: this photo was taken in the garden of Jaqcueline van der Kloet. Tulips again… we can't get enough of them! And we discovered some species suitable for naturalising.