Read our
design advice
. Learn about suitable planting sites and how to create planting schemes using different bulb mixes or by planting bulbs in amongst your herbaceous perennials.
Planting advice
Read our
planting advice
. Learn about when the best planting periods are, how to improve your soil, the number of bulbs to plant, and the different planting depths required.
Tip: for those gardening on sandy soil: add clay minerals (bentonite).
Maintenance advice
Read our
maintenance advice
. Is it best to clear up autumn leaves? When can you divide bulbs? When can you best manure bulbs? And, how to make a leaf heap.
What are...
What are bulbs for naturalising?
Bulbs suitable for naturalising are hardy bulbs that are generally 
easy to establish, and that return every year.
What are stinzenplants?
Stinzenplants belong to a culturally historic collection of plants which has its origins in certain parts of the Netherlands and Germany. Stinzenplants have been planted and naturalised around manor houses and country estates in Friesland, a region in the north of the Netherlands, for centuries.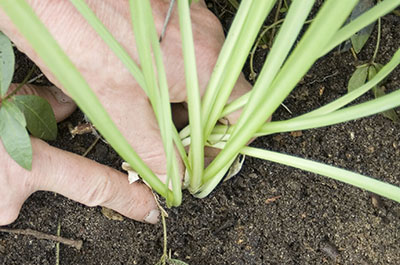 Personalised planting advice
Would you like a more colourful garden in spring, even in the shady parts of your garden, but you're not quite sure how to go about it? If that's the case then a stinzen planting plan by Trudi Woerdeman could be just what you're looking for.
Gardens to visit
Gardens and Parks known for their bulbs… pure inspiration!
- Visit our garden
De Warande
and see how we use bulbs.
- Visit the
Tea garden
where Jacqueline van der Kloet experimented with bulbs.
- At the country estate
Hackfort
we've replanted the stinzenplants in the park.
- In Germany: see the '
tulip-mania
' in the garden of Elisabeth Imig and Silke Imig-Gerold.