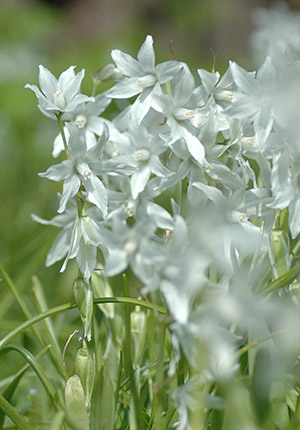 Stinzenplants is a collective name
for a special group of spring-flowering plants suitable for naturalising. For the most part they are bulbs, corms and tubers that have - from the 16th century onwards - been (and still are!) planted around the houses of country estates in the Netherlands. Our assortment consists of practically all the well known stinzenplants (
such as in the photo right, the Drooping star of Bethlehem, Ornithogalum nutans, and at the bottom of the page the Wild tulip, Tulipa sylvestris
) and are available to buy as bulbs. These stinzenbulbs flower every spring in
our garden
, which you're welcome to come and visit!
Stinzenplants come from all different parts of the world
; sometimes from the Netherlands, but more often than not from farther afield. Explorers and botanists 'discovered' the stinzenplants and then introduced them to western Europe. C. Clusius (1526-1609), W. Robinson (1838-1935) and the brothers Cornelis en Marinus van Tubergen (end 19th century) all introduced many new species and varieties, and many of these have been named after them.
What is it that make stinzenplants so unique?
It's the fact that stinzenplants have naturalised over the years on old country estates. There are even places where the manor house has disappeared, but where the stinzenplants still flower spectaculary every year.
But where does the word 'Stins' come from precisely?
'Stins' is a Frisian word (Friesland is a coastal province in the north of the Netherlands) that is used in Germany and the Netherlands and means fortress or manor house. The inhabitants of stinzen could afford to plant spring-flowering plants around their houses. The name 'stinzenplant' first appears in 1932 in descriptions of stinzen, and is of course a reference to these cheerful spring-flowering plants that have naturalised and that return every year.
Can I use stinzenplants in my garden?
Of course you don't have to live in a manor house to enjoy something beautiful in the spring: you can plant stinzenplants in your own garden, even on a small scale.
Examples of stinzenplants are: Snowdrops, Squill, Glory of the snow, Winter aconite, Crocus, Spring snowflake, Wood anemone, Yellow anemone, Solid-rooted fumewort, Holewort, Summer snowflake, Bluebell, Wild daffodil, Snake's head fritillary, Drooping star of Bethlehem, Lily of the valley and Cuckoo pint.
The group stinzenplants includes bulbs that are easily naturalised. Read here for more information about bulbs suitable for naturalising.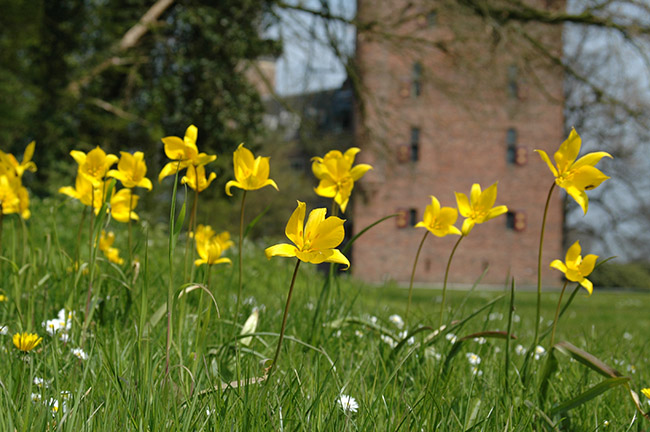 Tulipa sylvestris, a stinzenplant, naturalised in the garden of a country estate.